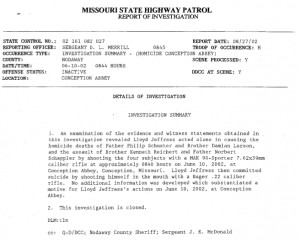 An examination of the evidence and witness statements obtained in this investigation revealed Lloyd Jeffress acted alone in causing the homicide deaths of Father Philip Schuster and Brother Damien Larson, and the assault of Brother Kenneth Reichert and Father Norbert Schappler by shooting the four subjects with a MAK 90-Sporter 7.62x39mm caliber rifle at approximately 0840 hours on June 10, 2002, at Conception Abbey, Conception, Missouri.
Lloyd Jeffress then committed suicide by shooting himself in the mouth with a Ruger .22 caliber rifle.
No additional information was developed which substantiated a motive for Lloyd Jeffress's actions on June 10, 2002, at Conception Abbey.
This investigation is closed.
Missouri State Highway Patrol's Report of Investigation
August 27, 2002
Reporting Officer: Sergeant D. L. Merrill