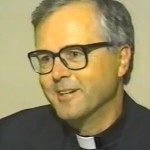 When Bede Parry was ordained in 1983, Conception Abbey's Jerome Hanus (photo, left) had some advice for Parry. Abbot Jerome Hanus told Parry that he must be "especially observant" of his vow of celibacy. Seems like odd advice for a monk on his ordination day… unless the advice comes from Hanus, who was well aware of Parry's history of sexual misconduct.
Before Jerome Hanus gave the advice, he knew that Bede Parry had already engaged in sexual misconduct with at least four individuals, including a student at St. John's [ View ].
According to Bede Parry:
"I had to go to counseling and was told not to do anything like that again," he said, adding that the counseling was required in order for him to graduate from St. John's. – Kansas City Star [ View ]
After Jerome Hanus gave the advice, Bede Parry would engage in sexual misconduct with at least eight more individuals, including two minors who were members of the Conception Abbey Boy Choir.
What does (now) Archbishop Jerome Hanus say in 2011:
"A lawsuit has been filed that makes several claims about me while I served as Abbot of Conception Abbey.  I await the opportunity to respond to these claims according to the system of justice in our country." [ View ]
It is safe to say that many people (including at least eight victims) are awaiting Hanus' day in court.